Sodium Aluminosilicate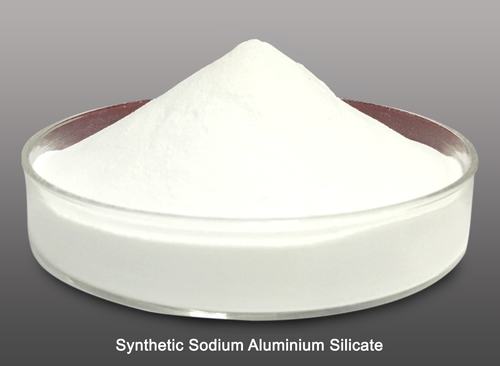 Sodium Aluminosilicate
Price And Quantity
Kilograms/Kilograms

56.00 - 62.00 INR
Product Description
Our sodium aluminosilicate alludes to compounds that oxygen, silicon, aluminium, sodium and water. This compound contains man-made amorphous sodium aluminosilicate, some organically occurring synthetic zeolites and minerals. Our aluminosilicate is broadly employed as a sustenance additive, known as E-554. This sodium aluminosilicate is formulated with a broad scope of compositions and possesses numerous applications. It is acknowledged as an additive in sustenance where it functions as an anticaking substance. In addition, as it is formulated with a scope of compositions, this compound is not severely a chemical element with a settled stoichiometry. Organically occurring minerals are sometimes provided with the chemical name as our aluminosilicate that includes jadeite and albite.
Test

Specification

Description*

A fine white odorless powder free from signs of impurity.

Moisture at 105 C for 2 hrs.*

NMT 7.0 % w/w.

Loss on Ignition (Dry Basis)

NMT 15.0 % at 10000 C for 2 hrs

PH (20 % Aqueous Solution)

Between 6.0 to 7.5

Linseed Oil Absorption ml/100 gm*

Between 80 ml to120 ml/100 gm

Residue on 325 Mesh

NMT 0.10 %

(Wet Sieving Method)

Average Particle Size

Max. 6.0 m

D50 (Micron)

Whiteness by Reflection Compared with MgO as 100 %

NLT 97.0 % w/w.

Iron Content (as Fe)

NMT 200 ppm

BET Surface Area

Between 70 to 100 m2/gm

Al2O3 Content

Between 7.0 % to 13.0 %w/w.

SiO2 Content (Anhydrous Basis)*

NLT 84.0 % w/w.